Dream Team
By the 2016 Olympics, Team Canada will be passing on NBa talent. How'd that happen?
Dave Zarum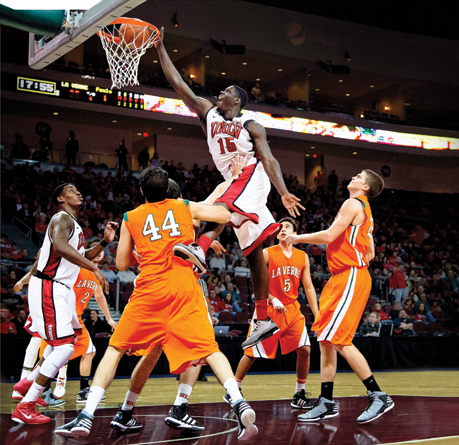 Julie Jacobson/AP
It's opening night, and the Thomas and Mack Center in Las Vegas, electric as any barn in America, is filled near capacity. A crowd of 18,187 is here, having braved an unusually cold desert breeze to cheer on their Runnin' Rebels of UNLV. Midway through the first half, the Rebels' head coach, Dave Rice, calls a routine timeout. As he gets set to face his troops, he feels a strong presence approaching from behind. Must be a drunk fan rushing the court, he thinks, but quickly realizes it's Anthony Bennett, his six-foot-eight freshman. The 18-year-old, with arms that put Stretch Armstrong to shame and shoulders so wide you wonder how he gets through a door frame, swoops past his coach to greet his teammates at half court. Ask anybody who's coached Bennett or run the floor alongside him, and they'll tell you that he's the perfect teammate, that the emphatic high-five is something of a signature move, like the skyhook was to Kareem. It's part of what made him the prize of the 2012 recruiting class; he's the kind of kid you want wearing your program's logo across his chest. It doesn't hurt that Bennett is a force of nature on the hardwood, thanks to a well-rounded game and a nasty habit of throwing down monstrous dunks as vicious as his youthful enthusiasm is infectious.
Four months later, Bennett is still swooping and smiling. He's led UNLV to unexpected heights, averaging nearly 17 points and more than eight rebounds, with a three, a steal and a block a game for good measure. Before you watch him come tournament time this March, he'll likely be named the NCAA's Freshman of the Year. And if he declares for this June's NBA draft as many predict, he'll be a top-five pick. Not bad for a shy kid from Brampton, Ont.
Five years ago, Bennett would have been hailed a Canadian hero, excelling in an American-dominated sport on one of its grandest stages. But not anymore, because he's not alone. Far from it. There's an exciting crop of young guns representing a new era of Canadian hoops. Fellow Brampton native Tristan Thompson and Andrew Nicholson of Mississauga, Ont., played in the Rookie-Sophomore game during the NBA All-Star weekend. Among the dozens of Canadians in the NCAA, Kelly Olynyk, raised in Kamloops, B.C., is a national player of the year candidate for the Gonzaga Bulldogs, and Mississauga's Nik Stauskas and Toronto's Dwight Powell are playing key roles for Michigan and Stanford. Meanwhile, on the women's side, Edmonton's Michelle Plouffe is starring for Utah, while Natalie Achonwa of Guelph, Ont., is a player of the year candidate for top seed Notre Dame.
At the high school level, Syracuse-bound Tyler Ennis from Brampton and Florida State commit Xavier Rathan-Mayes of Scarborough, Ont., are two of the top-ranked guards. Then, of course, there's Rathan-Mayes's teammate at West Virginia's Huntington Prep, Andrew Wiggins from Vaughan, Ont. The 17-year-old phenom and recent Naismith Award winner—given to the U.S. high school player of the year—has long been projected to be the top pick of the 2014 NBA draft. When you add it all up, the guys putting together the 2016 Olympic team—assistant GM Rowan Barrett being one—will be cutting NBAers. "Right now," says Barrett, "we have three centres in the NBA."
How, you ask, is a nation that produced 24 NBA players in nearly 70 years and medalled at the Olympics just once—a silver in 1936—suddenly on the verge of becoming a powerhouse? Is it the shoes? Not quite. Like most revolutions, it began at the grassroots level. "The athleticism has always been there," says Rice, whose starting centre, Khem Birch, hails from Montreal. "But now coaches are supplementing that with the fundamentals." Barrett, a former NCAA and Team Canada star in the mid-'90s, remembers a time not so long ago when Canada was basketball's wild frontier—full of potential, but tough to tame. "One of the things you always heard," he says, "was that the Canadian guys had some talent, but were raw; the skill development wasn't fully there." On the rare occasions when his teams played U.S. competition, still a meaningful litmus test, the results were always the same. "Physically we would dominate, pressing them and demoralizing them with dunks," he says. "But the shooting mechanics, the discipline, decision-making, all of that was missing."
Not now. From the moment Canadian kids first pick up a basketball until a lucky few have their names called on draft night, they are being better equipped with the tools needed to not just reach the next level, but to flourish once they get there.
The "next level" can take a number of forms, be it cross-border tournaments in the U.S. or even international play. Increasingly for players like Bennett, senior high school years are spent at American prep schools, private basketball academies devoted mainly to producing future NCAA stars. For most, the jump from Canadian high school hoops to the NCAA is overwhelming, but the professional environment that top-tier prep schools offer can help soften the blow. Bennett spent the past two seasons at Findlay Prep in Las Vegas, where he practised every day against elite big men, worked with strength trainers and travelled extensively. "What we're doing now," Bennett says on his cell from McCarran Airport in Vegas, minutes before boarding a private plane to a conference game, "is basically the same thing we did at Findlay—flying out for away games, playing in hostile environments. I came here prepared."
Still, nothing replaces skill development. So a select few players, like Gonzaga's Kevin Pangos, the son of a coach, who grew up on a court in Newmarket, Ont., and in the film room with his pops, can stay at home for high school and be just as prepared. That wasn't the case in Barrett's day. "Most of the guys I played with had no clue," he says. "We didn't understand things like athletic scholarships; now kids are talking about them as early as Grade 5."
Call it the "Raptor (and to a lesser extent, Grizzly) Effect," the promotion of the sport thanks to NBA games broadcast across the country on a near-daily basis. Couple that with the popularity of March Madness and Internet streaming, and big-time ball is more accessible than ever. Growing up, Barrett idolized sprinters like Ben Johnson because they were the closest examples of Canadians like himself competing on a big stage. Thompson, in contrast, says he grew up a diehard Raptors fan. The fact that he had a first wave of Canadian NBA stars to watch helped. "The kids saw Steve Nash and Jamaal Magloire and they were intrigued,"says Mike George, head coach of GTA-based CIA Bounce, one of the best travel teams in North America, of his recent alumni—a group that includes Thompson, Bennett, Wiggins, Spurs draftee Cory Joseph and Texas Longhorns standout Myck Kabongo. "Now, with the explosion of new guys, parents are getting interested, too. Our small-ball program has over 40 kids registered—four, six, seven years old—and every parent is like, 'I have the next Tristan Thompson!' It's crazy, some of that thinking, but at least they're engaging their kid in the sport earlier."
Ontario Basketball alone currently serves more than 200 clubs and, according to the Canadian Fitness and Lifestyle Research Institute, with a 15 percent participation rate, basketball is now the fourth most popular kids' sport in Canada behind soccer, hockey and swimming. Twenty years ago, it was a distant sixth and in 2005 it had about half the participation rate it has today. "Sure, we could all name Steve Nash," Rice says, "but it's just absolutely exploded in the past four or five years. [Canada] has become a very important recruiting area for us."
What makes the boom so promising is that as Canadians achieve success stateside, their ties to home aren't fading. Just the opposite. That bodes well for the future of our national program, as players no longer have to be begged to suit up for their country. Now it's their goal. As Gonzaga, based in Spokane, Wash., ran through its regular-season schedule, the Bulldogs attended NBA games up and down the West Coast. If you stuck around following the mid-January Cavs-Blazers contest in Portland, you would have seen Thompson walking Olynyk through low-post footwork drills. A few days later in Los Angeles, the squeaking shoes on the Staples Center court heard long after the game finished belonged to Nash and Pangos, with the future Hall of Famer teaching the secret to the perfect pass. "Can you imagine," asks Barrett, "getting advice from one of the top guards to ever pick up a ball? These are the kinds of experiences our players are getting."
Bennett, who suited up for his country at the under-17 championships and figures heavily in the future plans for the senior national team—some would say he's a cornerstone—is proud to be part of a network of homegrown talent. "I keep in touch with them all the time," he says, before listing several Canadian ballers he regularly texts. "I could go down the list and we'd be here all day." With that kind of chemistry—and all that talent—it's no wonder Canada is about to be a serious threat.
Canadian Bakin'
James Naismith would be proud—this year's NCAA tournament will be packed with talent from north of the border.
Craig Battle
Kelly Olynyk (Gonzaga) 7-0, 238 lb.
With Robert Sacre manning the middle for the Zags last season, Olynyk red-shirted and built up his body to ensure a successful 2012–13. It worked. Now 21, the seven-foot centre from Kamloops, B.C., is getting serious NBA draft buzz, averaging career highs across the board and, with nearly 18 points per game, leading all Canadians in the NCAA in scoring.
Kevin Pangos (Gonzaga) 6-2, 182 lb.
While Olynyk works in the paint, Pangos does his damage from outside, spacing the floor with deep range and hitting more than two threes a game on 43 percent shooting. Fans should get used to seeing his face. The sophomore point guard plays a team-high 31.6 minutes for the possible No. 1 seed.
Bryson Johnson (Bucknell) 6-2, 198 lb.
Hailing from Pictou, N.S., Johnson has helped shoot the Bisons to their third Patriot League regular-season title in a row and a likely autobid into the tournament. Playing alongside post presence (and stats-nerd favourite) Mike Muscala, the senior guard is third on the team in scoring, second in three-point percentage and first in minutes.
Nik Stauskas (Michigan) 6-6, 190 lb.
This 19-year-old freshman has quickly become one of the deadliest shooters in the NCAA and an indispensable starter on a loaded Wolverines team. The Toronto-born two-guard is sneaky athletic, can put the ball on the floor and has elite size for his position—all the better to see over the heads of the defence all the way to the Final Four in Atlanta.
Junior Cadougan (Marquette) 6-1, 205 lb.
You wouldn't know it from the stat sheet most nights (he averages fewer than 10 points per game in 27.9 minutes), but Cadougan is the on- and off-court leader of this Golden Eagles squad, and has quarterbacked them to two straight Sweet 16 appearances.
Anthony Bennett (UNLV) 6-8, 240 lb.
Beast.
@DaveZarum