A season on the rink
Behind the scenes with Glenn Howard and his team in their bid to remain the greatest curlers on the planet
By Brett Popplewell in eDmonton... Guelph... Toronto... Barrie... and Tiny, Ont.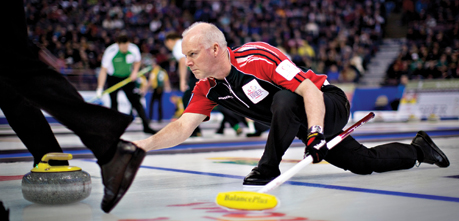 March 8, 2013—Edmonton
Four men stood like troubled physicists on pebbled ice, calculating the geometric and athletic difficulties of their skip's next shot. It was the 10th end of their 11th game in seven days and these the dying seconds before they threw their final rock of the night.
They were world-class curlers—men with brooms who dressed in polyester and drank gin, rum and rye whiskey. Considered by some to be little more than competitive shuffleboarders and frozen lawn-bowlers, they could glide on ice like ballerinas but preferred to be compared to ballplayers. They were men with jobs who curled to win and fell in love with the women they met on the ice. They were the greatest team on Earth. Four men who took their sport more seriously than themselves. Who weren't afraid to sport flashy white Hugo Boss belts and who carried the flag of 13 million people when they stepped inside this arena.
There was Glenn Howard, the bald-headed skip. The one they called Cliffy because he reminded them of the know-it-all postman from Cheers. A four-time world champion, still driven by Olympic aspirations at the age of 50. There was Craig Savill, Howard's 34-year-old lead—the muscle behind the broom. Beside him stood Brent Laing, their second, the man who weeded lawns for a living and who, at 34, preferred the substance of a mitten over the style of a glove on any given ice. And behind them stood Wayne Middaugh, the former world champion skip who now curled third. They said he carried a bag of pistols to every game, but that was just curler talk to let you know that he could really throw a rock.
Their foe stood before them. Alberta's skip, Kevin "The Old Bear" Martin, a three-time Olympian and longtime rival, newly recovered from a hernia and carrying himself like an aging panda. He was cringing now beneath pursed lips and watching as Howard and the other members of Team Ontario leaned on their brooms and pondered which rock might land where if they just threw what.
Then Howard crumpled his face, looked to the others and said, "Hmm."
This was curling in all its intensity. This was the Brier—the toughest tournament of the year. The stands of Edmonton's Rexall Place hummed and chimed as a few dozen homemade moose-calls cut through the cowbells and derisive chants of a partisan crowd. As Howard slid down the ice toward the hack, a heckle rang down from on high. It began soft but gathered quickly and before he'd knelt down to deliver his final shot, thousands of Albertans were jeering his name. "HOW-ard... HOW-ard."
The old man rose, did a pirouette on the ice, stretched out his arms, put his palms in the air and signalled for the crowd to jeer louder. Then he bent back down, grabbed the stone, swung it low, slid down the rink and let it go with the tenderness of a man blowing a kiss across a 150-ft. sheet of ice.
Later, just after midnight, the members of Team Howard sat together in a hotel room, watching highlights of that very shot on television. All the while sipping their favourite toxins and talking loudly of glories past, present and future. Howard's wife was there, and Middaugh's wife, too. As was Laing's partner, the Manitoba skip (and 2008 world champ) Jennifer Jones. And Laing was bouncing his and Jones's three-month-old daughter on his knee while Savill mixed himself another rum and Coke and said something about how they just needed a victory tomorrow and another the day after and they'd be back representing Canada at the worlds. And as they sat around drinking, reminiscing and waiting for a delivery of pizza and chicken wings, one of them acknowledged that they should all probably be sleeping.
Then came a knock and Howard, the man a curling writer once called the "Wizard of Winter," rose with a gin and tonic in his hand and walked to the door only to learn that it wasn't the pizza guy at all but hotel security, requesting that he and the rest of his party keep the noise down.
I'd been following Team Howard around for the better part of a year as they attempted to defend the provincial, national and world titles. They'd grown so accustomed to seeing me around that they were now calling me their stalker. I'd driven Savill to the airport, had breakfast with Howard, bought a DVD off Laing and clanged drinks with Middaugh, but never had they let me this deep into their world. It was nearing 1:30 in the morning, just 12 hours until the biggest game of their season, and yet here they were, pouring each other another round and openly dreaming that someday soon they'd all be Olympians.
It was a dream they spoke of often. They'd never represented their country on the Olympic stage. For Team Howard, and the skip especially, it was Sochi or bust.
None of them knew what they would do if they lost in the Olympic trials next December. Howard was already one of the oldest competitive curlers in the world, but he was still one of the best—an aging rock star heading out on one last tour, and neither Savill nor Laing nor Middaugh was certain he'd keep curling once Howard retired. And so they stayed up late, ate pizza and wings and cherished the moment because somehow they knew it wouldn't last.
When I first spoke with Howard back in April 2012, he'd just made headlines from Switzerland by winning another world championship. It was his second as a skip and fourth in total, having first won in 1987 while playing third on his older brother Russ's team. He and Russ learned the game from their father, Bill, and had been winning since the days when Gretzky was still hoisting Stanley Cups. Howard said he threw his first rock when he was 10 and, moreover, that every good rock came from the granite quarries on the island of Ailsa Craig off the coast of Scotland. As a 17-year-old, he'd travelled there, to the land where curling was created some 500 years ago. He remembered standing on the shores of Girvan, a small fishing village, looking out across the Firth of Clyde and setting eyes on Ailsa Craig.
The brothers curled together almost every day until 1998, when Russ moved to New Brunswick, forcing Howard to form his own rink. Russ had won gold for Canada at the Olympics in 2006 and now Glenn hoped to follow. Ever since the late '90s, when curling became an Olympic sport, curlers had started to think of themselves as athletes, and now so had Howard. He had to. "Competitive curling is funny," he said. "Every single human being who curls in Canada has the right to play-down and try to represent the country. It gives everybody an equal chance." He liked that, but said it also gave world champions a hell of a time to try to defend their titles.
Sept. 21, 2012—Guelph
It was the last day of summer. Howard and the boys were on the ice inside the Guelph Curling Club, one of Canada's countless unassuming peak-roofed shrines to the sport. They were dressed in the Team Ontario sweaters they'd worn to the Brier the previous winter, playing host now to the annual Team Howard Fantasy Curling Camp—a three-day crash course for hobby curlers meant to raise money to cover the cost of defending the team's title.
Howard stood on the button, the little white dot in the centre of the rings that make up the "house" at both ends of a curling sheet. Surrounded by novice skips young and old, he explained his mantra. "A good skip has to be resilient, has to know how to take a loss," he said. "And to be a good team you must have chemistry."
There were moments, he said, after he or Middaugh had released a rock, when they disagreed on what to do next. When, from opposite ends of the sheet, they would stare at the same rock, analyzing its weight and its curl and then start screaming out contradictory instructions to Savill and Laing (the two men hovering over the rock as it slid). Middaugh screaming, "Whoa!" And Howard shouting, "Hard now, boys! Hard! HAAAARD!" And in that moment, Laing and Savill would have to choose a side, more often going with Howard because he was the boss. And so they'd sweep the ice in front of the rock, harder with every shout, clearing its path of debris, ensuring it didn't pick on a hair or a fleck of dirt, all the while melting a tiny track of ice to make the rock curl straighter and longer until it reached its desired destination. Sometimes the rock would go where they wanted. Sometimes it wouldn't. No matter the outcome: "You cannot get mad at each other on the ice over a blown call or a missed shot," said Howard. "It's the kiss of death."
Elsewhere, Laing recited the three principles of curling to another group: "Pursue, probe, protect." Meanwhile, Savill worked one-on-one with a man struggling to find his balance on the ice. "Slow everything down," he said. "Slow it right, right down."
The student curlers hailed from all over the province. They were dental assistants, office workers and retirees, each paying $880 for three days with the world champs. "It's like we're being trained to play hockey by Wayne Gretzky," explained Andi Kelcey, an Oshawa-based skip.
Around lunchtime, when everyone was drinking beer and eating sandwiches, Howard asked how I was doing. I said many of the words they used seemed to be Gaelic and that I didn't understand what it really meant to curl. He led me across the lounge and showed me a large silver chalice mounted on wood and adorned with hearts engraved with the names of men and ghosts. "This is the Brier Tankard," he said. The cup awarded annually to the best curling rink in the country. It spent the majority of the year tucked away in a storage facility in Ottawa, but Howard had borrowed it to show to the campers so that they might find the inspiration needed to curl harder. "This is what it's all about," he said. "This is our Stanley Cup."
Oct. 5, 2012—Toronto
Thanksgiving weekend began just as it always had: at a rink far from home. It was Friday night and Howard, a broom in one hand and a six-pack of Pilsner in the other, entered the High Park Club, a 100-year-old Toronto curling facility and the venue for the season's first cashspiel—the winners walked away with $15,000. Brad Jacobs, the banker from Sault Ste. Marie who'd represented Northern Ontario at the Brier each of the past five years, was there with his rink. As was Brad Gushue, the Newfoundland-based frozen yogurt tycoon and skip of the 2006 Olympic team. Winnipeg's Jeff Stoughton, the second-highest ranked skip in all of Manitoba and the eighth-highest ranked in the world, was there, too.
Team Howard had brought new shirts and sweaters to mark the occasion. Last year, they'd rotated between pink and green tops bearing the names of their sponsors: JVC, Dominion Insurance and Swiffer. But the latter had recently cancelled its support (just as Trojan condoms had done a few years earlier) and had been replaced by Weed Man. And so the men threw on their new liveries and prepared for a three-day battle.
Howard was optimistic for the weekend, but he was also tired and weak. He'd caught pneumonia three weeks earlier, which alarmed him because it reminded him of his age and sounded somewhat serious. He'd spent the past few days keeping warm and rested. This tournament was all about money and points, which went toward their World Curling Tour standing. This year Team Howard's "world tour" stretched from Penticton, B.C., to Port Hawkesbury, N.S. They planned to compete in 11 tournaments, to win money and to be well-practised come February, when they would have to defend their provincial championship and earn the right to represent Ontario again at the Brier. Before his first game, he told me we'd go out for dinner, have a drink and talk it all through. Then he headed out to take on Mike Anderson, a 27-year-old skip from the Thornhill Golf and Country Club.
Team Howard scored two in the first end, another in the third and two more in the sixth, but didn't pull far enough ahead and lost the lead in the eighth, triggering an extra frame. Anderson tossed his last rock of the game right off the button. Middaugh gave the symbol for Howard to drop the hammer, knock Anderson's rock from the house and ensure a victory. Howard, eyes fixated on Anderson's rock, kicked from the hack and took the shot. But it drifted wide of its target and collided with one of his own rocks. Middaugh shook his head, as did Howard.
Minutes later, Anderson stood by the bar in the lounge. "That's the first time we've beaten them," he said. "Feels great. Doesn't get any better than this."
Meanwhile, Howard and his team quickly changed out of their uniforms and gathered by the door. "That's not how it was supposed to go," Howard said, smiling yet visibly dejected. "We don't like losing." I asked Howard where we were going for dinner. "It might be best if you don't come out this time," he said. "We need to have a little talk as a team."
Feb. 10, 2013—Barrie
A lone piper walked along a carpet in the middle of a half-full hockey rink and played "Scotland the Brave" while eight men marched onto the ice. It was 2:30 on a Sunday afternoon, and southern Ontario's most ardent curling fans had come out in groups of twos and threes to witness the Ontario Tankard final.
On the ice, Savill whistled to the pipes as he marched behind Laing, Middaugh and Howard, who was waving to the fans he recognized in the crowd. His mother, Barbara, was there, as was his wife, Judy, daughter, Carly, and son, Scott. So were Patti Martin and MaryAnn Rivett, two middle-aged women who said, "Howard's just the greatest" and "We're probably his No. 1 fans." They'd both brought green pompoms to show their support, and Patti was wearing one of Howard's old white belts that he'd given to her. It was game-worn, and she'd brought it for good luck because she knew they needed some.
The road to this final had been rough—both metaphorically and literally. A winter storm had left Barrie under 30 centimetres of fresh powder. Cars and trucks had spun off the road on the way up from Toronto. Inside this arena, Team Howard was having its own troubles. Last year, they had been unbeatable at this tournament. This year, they'd lost three games in the round robin. In fact, the season as a whole had not gone as planned. They'd won just one major—the Canadian Open of Curling in Kelowna in mid-December—but hadn't even qualified for the playoffs in several other cashspiels. "We've had some bad luck," Howard said. "We certainly can't quit our day jobs off of this year." He wasn't kidding. The team had actually lost money on several tournaments and had fallen to sixth on the tour's money list with just $41,000 in earnings. Rivals Martin, Jacobs and Stoughton were all among those who'd won more.
Team Howard needed this game in order to advance to the Brier and the largest purse of the year—$130,000. Their only potential foil: Joe Frans and his team from the Bradford Curling Club. An accomplished curler in his own right, Frans had been to the Brier twice, the last time in 2005. It hadn't been the most rewarding experience. During the tournament, he'd taken a swing at a journalist while drinking in a bar and afterwards tested positive for cocaine. He'd been banned from competitive play for two years. But now he was back, clean and eager for a return to the Brier.
Howard's team had stayed up late throwing rocks on this very ice. Savill hadn't slept well, having shared a room with Laing, who has a habit of talking in his sleep. Howard and Middaugh slept somewhat better in their room but they were both anxious to get the game over with.
They broke out to a one-point lead in the first, thanks in large part to a pistol by Middaugh that cleared Frans's rocks from the house. "Take that!" screamed someone in the crowd. Frans tied it up in the second and then Howard scored three in the fourth and another two in the seventh, after which Frans slammed his broom against the ice and looked to the crowd in anger. Frans scored one in the eighth and stole another in the ninth. Then in the tenth and final end, with Team Howard up 6–5, Frans placed two of his rocks side by side just off the button. The cowbells erupted, someone yelled "You can do it!" and Howard took off out of the hack, released his last stone and watched as it knocked one of Frans's rocks out of the house, leaving a Howard stone as the nearest to the button.
After the match, Frans gave a few quick interviews, then ducked outside for a smoke. Meanwhile, Howard was surrounded by reporters all asking him, "How does it feel to win here for the eighth time in a row?" All the while his mother stood impatiently waiting for a hug until finally she got one. Then Howard reached over the boards of the rink, grabbed a beer from one of his fans and drank from it.
The next day, Howard woke up before dawn at his home in Tiny, Ont., jumped in his truck and drove to the nearby Beer Store. By noon, he reckoned, 60 people had sought him out in the small office he kept between the fridge and the cash register. "I don't get anything done on days like this," he said. But that was OK, because the people who came to see him just wanted to congratulate him. "It's special, you know? They turn on the TV and there I am, their local Beer Store manager." He didn't like to admit it, but he knew his curling was helping the community. He'd long lived in Tiny but curled out of the Coldwater District Curling Club, located in the centre of a town with more trees than people. It was there that his Canadian and world championship banners were hung.
March 10, 2013—Edmonton
The Edmonton Oilers had been cast from their home for more than a week, their ice defaced and replaced by a row of finely pebbled curling sheets. Ice technicians now stared at computers connected to sensors equipped with thermometers that monitored those sheets while men, women and children grabbed cowbells and filtered into the arena. This was curling on its grandest stage, 9,000 fans trudging through the cold morning to watch the Brier semifinal.
Howard had woken up at 5:30 a.m., done 60 jumping jacks in his hotel room, then travelled to this arena with the other members of his team. Now they stood in the corridors of Rexall Place, stretching out their groins and quads and preparing for battle.
They were frustrated but focused. They'd entered the Brier as defending champions, gone 10-1 in the first seven days of play but then lost to Stoughton and his Manitoba rink in the first game of the playoffs. Howard had called it "a real heartbreaker." They'd controlled the game up to the final end when Middaugh delivered a rock that picked on the ice and ran wide of its target. Then Howard tried for an ambitious double takeout with his final stone. And when he missed it, he hung his head low and mumbled something into the ice.
It was now victory or nothing as Team Howard again marched out onto the sheet. Brad Jacobs, the 27-year-old Northern Ontario skip, stared at his tired old nemesis. He was not yet two in 1987 when Howard had won his very first Brier. But none of that mattered. On this ice, the two skips were equals.
Howard and the boys came out sliding and sweeping, grabbing two points in the first and two more in the third. Then, with the game tied 4–4 in the fifth, it all went to hell on three shots. Middaugh misfired first and then Howard did the same with his next two throws, and suddenly Team Howard was down by two. Moments later, with play stopped for a commercial break, Jacobs stood smiling like a boy about to dethrone a king. Nearby, Howard stared at the ice in silence. As did Middaugh and Savill while Laing ate a banana. Five ends and an hour later, Howard crouched back into the hack and took his final shot. It was a sombre moment, the last of his reign as skip of Team Canada.
After the game, he stood in the corridors under the stands, eyes low, surrounded by cameras. He said he'd been "outskipped" and that his entire Brier had come down to those two shots he missed in the fifth. "I feel bad," he said. "I let the boys down."
Soon he and the rest of his team stood on the third step of a podium and watched as Jacobs and his men hoisted the Brier Tankard above their heads. A new Team Canada had been named and now Howard just wanted to pack up his brooms and his sliders and go home.
Later, after the ceremonies were done, Howard sat in the hotel lounge and reflected on all that had happened. He said he was exhausted, that the week had been gruelling and that though it hurt to lose, it wasn't the end. "It was just a curling game," he said. "There's still Sochi."
Then he raised his gin and tonic and took a sip to that.
@b_popps